Purchasing a motherboard does not come cheap, especially when you want to buy a motherboard chipset that is highly in demand because of its plethora of fan headers, USB ports, remarkable connectivity, and other cool features. Yes, we are talking about the x470 Motherboards. Since there are so many motherboards with the same chipset to choose from, we have narrowed down a list of the 9 Best x470 Motherboards for you to pick.
This list of best x470 motherboards was created solely based on the judgment of experts, gaming enthusiasts, and content creators who require their motherboards to help run the processor and computer as smoothly as possible without any trouble and allow maximum overclocking without overheating problems arising in the way. Connectivity, memory size, as well as ability to install extended memory size are also some of the features we paid close attention to in the process of picking out the best in the bunch.
Our focus was also on their specifications; what do these motherboards provide that makes them the best in the market? Well, we have compiled a list for you, giving you most of the information you will require to keep in mind while considering which x470 motherboard you are going to buy in 2022.
Quick Shopping Tips:
Buying a motherboard should be treated as an investment because motherboards do not come cheap. If you are looking for the Best x470 motherboard, do not just judge based on price, there are other criteria that you need to consider before choosing.
So here are a few of the most reliable quick shopping tips that we present to you, which will help you judge the motherboards appropriately and determine which one of them is best suited to your needs.
Form Factor: You will observe that motherboards for desktops come in three varying sizes. The most common of them in the market is the ATX form factor. It is also the standard size and is compatible with most compact cases.
If you want a form factor with a most compact feel and experience, you should consider opting for the Micro-ATX one. This form factor is small in size and compatible with the majority of cases, such as mid-tower cases and full-tower cases.
Last but not least is the mini-ITX form factor. If you desire a super-compact SSF build, this is the motherboard form factor that you should consider opting for. Overall, we would recommend the ATX form factor because it is the best there is and supports the most variety of standard full and mid-tower cases.
VRM Layout and Quality: A power delivery system or VRM quality is one of the most important features that you should judge a motherboard on. The main function of the VRM is to convert the energy coming directly from your Power plug point on the wall into usable energy for the CPU that is a clean and stable form of power.
The design of the layout of the VRM is significant too. It determines the overclocking potential of the VRM from top-tier CPUs. You should definitely consider these points as a buying guide when judging the VRM of an X470 motherboard. Thermal performance is the final major factor on which a VRM should be judged.
Overclocking Support: The concept of memory overclocking support is complex yet a crucial factor based on which you should make your decision to buy the motherboard. Check the overclocking support in the motherboard's manufacturer information. This chipset does not come in different versions and delivers overclocking.
Audio Quality: If you want an immersive experience while you are gaming, creating content, or streaming, you need to make sure that of the motherboard. Enhanced audio quality should be one of the buying guides on your list then you won't have to spend extra on buying a sound card.
Warranty: Damages while installing or factory damages are common in motherboards. That is why you need to ensure that your choice of X470 motherboard is covered under warranty for at least a year or three.
Three years of warranty is the standard offer of warranty from most standard manufacturers. You should consider going with the X470 motherboard that gives you the maximum warranty period.
Our Recommendations For Best x470 Motherboards
| Award | Design | Motherboards | Retailer |
| --- | --- | --- | --- |
| Best Premium Performance X470 Motherboard | Best Pick | | Check Price |
| Best First Class Budget Motherboard | | | Check Price |
| Best Budget-Friendly X470 Motherboard | Budget Pick | | Check Price |
| Best Overall X470 Motherboard | | | Check Price |
| Staff Pick for Best X470 Motherboard | Staff Pick | | Check Price |
| Best X470 ITX Motherboard | | | Check Price |
| Best Mid-Range X470 Motherboard | | | Check Price |
| Best Versatile X470 Motherboard | | | Check Price |
| Best Enthusiast Build X470 Motherboard | | | Check Price |
Choosing an x470 motherboard that is best compatible with your processor and meets all your expectations is hard enough. That is why we bring you 9 of the Best x470 motherboards that you will find in the market for purchase in 2022.
Here are the detailed reviews of all the motherboards that we have picked fairly based on their performance, specifications, features, and more.
ASUS ROG Crosshair VII Hero
Best Pick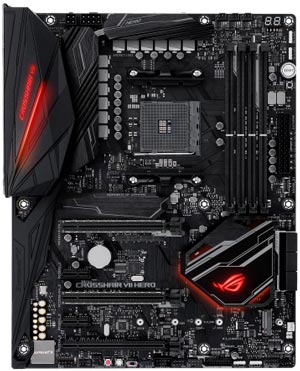 | | |
| --- | --- |
| Socket: | AM4 |
| Chipset: | x470 |
| Form Factor: | ATX |
| Audio Support: | ROG SupremeFX 8-channel HD Audio Codec S1220 |
| Warranty: | 3 Years |
| Voltage Regulator: | 16 |
| PCIe x16: | 3 |
| Additional Specs: | WiFi 802.11 a/b/g/n/ac, 12 USB ports, 5 PCIe Slots, 2 M.2 Slots |
We begin the list of our reviews of the X470 motherboard with the best of the best, that is the ASUS ROG Crosshair VII Hero motherboard. It is one of the premier high-end motherboards available in the market launched by AMD and has rarely failed to live up to expectations. Its long-lasting and quipped features are modern, even the standard of 2022. There are many USB 3.1 ports that you get along with audio ports, PS/2 port, a Gigabit LAN port, and more.
Want outstanding overclocking performance out of the X470 motherboard? This one is built to deliver that same. You never have to worry about power delivery because the VRM quality of the motherboard is solid and offers M.2 heatsinks with decent temperature controls. The price of the ASUS ROG Crosshair VII Hero motherboard can be steep, but it is certainly worth the price.
Coming to gaming connectivity, with this ASUS motherboard, you get to enjoy connectivity features such as a LAN guard as well as Intel Gigabit Ethernet. This motherboard allows premium multi-streaming and high-quality enhanced sounds with Sonic III.
You can be as engrossed in your gaming adventures as possible with no outside noise to disturb your focus. The motherboard also has a warranty period of 3 years, so if you ever run into some trouble during or after installation of the ASUS ROG Crosshair VII Hero Motherboard, you can contact the manufacturer for guidance and support.
This motherboard has optimal water header zones, aluminum heatsink as well as ROG cooling zone. Perfect temperature stability is maintained inside the motherboard while you are gaming or performing extensive work on your desktop computer for long hours.
This motherboard came on several lists as one of the top choices of gamers for motherboards, and the reasons behind the same are now justified enough when we look at its performance and features. You can check the price and availability of the ASUS ROG Crosshair VII Hero motherboard on Amazon.
Pros
Packed with Premium Features
Decent Design – DIY Friendly and Aesthetically Pleasing
Remarkable RGM + AX WiFi
Optimized thermal design with VRM heatsink
AM4 socket supports both 2nd and 3rd Gen AMD processors
2 M.2 slots and5 PCIe slots
Best x470 motherboard for overclocking
Remarkable Power Delivery
Cons
Expensive – Can be a little over budget for some
The location of the chipset fan is below the CPU
Supports 64GB RAM Maximum
MSI Performance Gaming AMD X470 Plus Max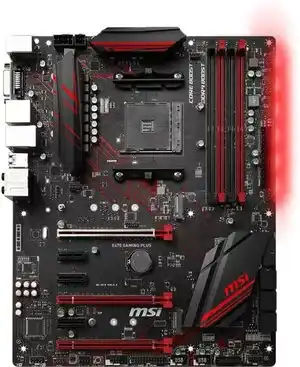 | | |
| --- | --- |
| Socket: | AM4 |
| Chipset: | AMD X470 |
| Form Factor: | ATX |
| Audio Support: | Nahimic 3 with Audio Boost |
| Graphics Output: | HDMI |
| PCIe x16: | 6 |
| Additional Specs: | Gaming Heat sinks, 2 M.2 Slots, 12 USB Port |
Looking for a motherboard that is pocket-friendly but wants features of a high-end motherboard, MSI Gaming AMD X470 Plus Max is the best option. It is cheaper than the Plus series but has good products as compared to products at that price range. It has loads of connectivity options starting with USB, audio ports, etc.
MSI has R&D to make the motherboard work in extreme conditions to provide the best results. It comes with good overclocking capabilities not from the CPU side as well as from the GPU side too. Plus Max motherboard is made for both work and play. It comes in with the best software update that can maximize the output of the motherboard in total.
This motherboard gets fully equipped with dual M.2 slots and AMD's StoreMi technology. It comes with all the weapons for gaming structure. Core Boost is the latest advancement for the CPU power delivery system.
MSI motherboard has tested major memory manufacturers to create best-in-class speed for read and write memory at extreme conditions. Enhanced BIOS which helps for overclocking or advanced tuning capabilities. It has recently done a BIOS update for Ryzen 3000 series.
It has PCI Express Steel which secures the motherboard at the solder points which are being soldered again to provide support to the heavy graphics card. Outplay your opponents with MSI gaming tools which will allow you to overcome your opponents with respect to the hardware and software of the motherboard.
Amplify your Game with Audio Boost to get crystal clear sounds in-game as well as during working. You can check the price and availability of the MSI Performance Gaming AMD X470 motherboard on Amazon.
Pros
Extremely budget-friendly
Multi-GPU support available
Cons
No Wi-Fi Support
Average VRM cooling
ASUS Prime X470-Pro
Budget Pick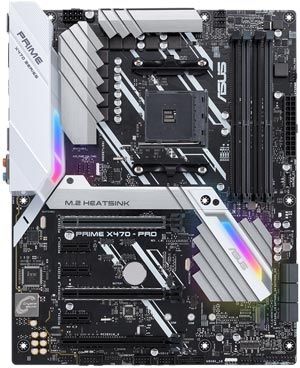 | | |
| --- | --- |
| Socket: | AM4 |
| Chipset: | X470 |
| Form Factor: | ATX |
| Audio Support: | Realtek S1220A 8-Channel High Definition Audio CODEC featuring Crystal Sound 3 |
| Graphic Output: | DP/ HDMI |
| PCIe x16: | 6 |
| Graphics Support: | 2-way SLI/AMD CrossFire |
| Additional Specs: | 2 M.2 Slots |
Want to integrate your desktop system and processor but have a limited budget? Do not fret because there are multiple affordable options of X470 motherboards that you can choose from.
One of the best of the pile of budget-friendly X470 motherboards is the ASUS Prime X470-F Pro motherboard. This motherboard does not compromise on quality, feature, and build just for the sake of affordability. It is an excellent motherboard when we look at its specifications and features.
The 10-phase power delivery VRM design is one of the main highlights of the motherboard, a feature that you will rarely see in other mobos under the same price tag. Excellent VRM heatsinks look after thermal management of the power delivery system inside the motherboard. There is also the presence of an M.2 heatsink that works in your favor as well.
The motherboard lacks any wireless connectivity, and this may be a disappointing feature for some buyers as well as its lesser number of USB ports. But these flaws can be widely overlooked when we shift our focus to the wonderful RGB implementation and white design language of the ASUS Prime X470-Pro motherboard.
The memory overclocking power of this motherboard is unparalleled, and its performance is impressive, judging by its price tag. You also get comprehensive cooling options that work to your advantage when there is an increased workload. The design of the motherboard is not bulky either; instead, it is small and sleek.
Overall, the motherboard is the best you can get within this price and limited budget. It does not stray in performance when compared with the performance of other higher-priced ASUS chipset motherboards.
We recommend this motherboard primarily to those who are newbies in the DIY building of motherboards and have recently turned gaming enthusiasts. You can check the price and availability of the ASUS Prime X470-Pro motherboard on Amazon.
Pros
Budget-Friendly – Affordable Option
Impressive and unique design
Top tier Thermal Performance of VRM
Reasonably Priced
Offers loads of premium features
Does not compromise on quality and build
Impressive VRM Thermal Performance
Equipped with six PCIe slots and two M.2 slots
Cons
Power Delivery is Average
Absence of WiFi
Absence of Support for BCLK Overclocking
ASUS ROG Strix X470-F Gaming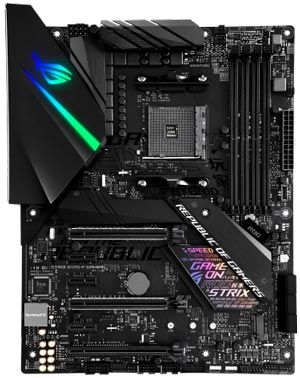 | | |
| --- | --- |
| Socket: | AM4 |
| Chipset: | AMD X470 |
| Form Factor: | ATX |
| Warranty: | 3 years |
| Voltage Regulator: | 6+4 |
| PCIe x16: | 13 |
| Additional Specs: | 11 USB ports, 1 HDMI port, None Wireless Networking |
Perhaps one of the most popular and recommended X470 motherboard awards goes to the ASUS ROG Strix X470-F Gaming. The reasons behind its immense popularity are justified when we look at its performance and features. The first highlight of this motherboard that catches our attention is the 5-way optimization for Auto-Tuning. The PCB design of the motherboard is striking and well-created. The motherboard also gives you stable and above-average overclocking abilities.
The components of this motherboard are manufactured with high-quality materials, which means it will last you longer without any trouble. There are cool aura RGB effects implementations that delight gamers and conventional users alike.
The ASUS ROG Strix X470-F Gaming motherboard is also perhaps the most versatile out of the bunch. The motherboard has 64GB maximum memory power as well as four memory slots. You also get to enjoy a pre-mounted input/output shield with this motherboard.
The aesthetics of this motherboard are understated, and it is packed with cool and unique features. The lack of WiFi support as well as unimpressive thermal management may stand out to be to some of the flaws of this motherboard, but they are made up in its power delivery and top-tier performance. The audio support is also commendable with its eight-channel HD audio system and Studi III that offers you enhanced audio quality output.
You get a super immersive and focused experience when you are gaming intensively for hours without anything to bother you.
Along with its price point, the ASUS Strix X470-F motherboard provides amazing features such as Gigabit LAN, several high-speed USB ports, and more. The motherboard in total has 17 ports for plugging and installing external devices. There is also an integrated graphics card present inside the motherboard. You can check the price and availability of the ASUS ROG Strix X470-F Gaming motherboard on Amazon.
Pros
High-quality features and capacitors
Cool Aura RGB effects
Stable Overclocking Ability
Cons
Tech Support is unsatisfactory
Single HDMI port
Absence of USB 3.2 port
ASROCK X470 Taichi
Staff Pick
| | |
| --- | --- |
| Socket: | AM4 |
| Chipset: | AMD X470 |
| Form Factor: | ATX |
| Wireless: | Intel 802.11ac WiFi |
| Graphics Output: | HDMI |
| PCIe x16: | 5 |
| Audio: | Realtek ALC1220 Codec |
| Additional Specs: | 2 M.2 slots |
The ASRock X470 Taichi is an excellent performer when it comes to speed, quality, features, specification, and other parameters that makes an X470 motherboard ideal for extensive use when gaming and creating content. Even if you are a conventional user, you should consider ordering this motherboard not only for its bold statement-making appearance but also for its impressive features and capabilities.
Some might say the appearance of the ASRock X470 Taichi tries too hard to impress. Still, it certainly catches your eye how the heatsink arrangement manages to compliment the appearance of the light designs present on the motherboard. This motherboard is, in fact, one of the most widely used and preferred mobos in the markets.
No other X470 motherboard provides you features and performance such as this one within the same price range. The motherboard also comes as a best value chipset version of X470, and it has an in-built WiFi support system.
Users have also expressed facing some troubles related to firmware and memory overclocking. Still, they might be rare, as in, these problems would not arise in every ASRock X470 Taichi motherboard built and performance.
All of the PCIe x16 Slots of the ASRock Taichi come armored with steel. This helps support the memory size up to 64GB of DDR4, which you can transfer and use via four DIMM sockets present on the motherboard. There are also two M.2 slots that allow NVMe support. Moreover, eight SATA ports give you enough options to plug in and install your external memory devices.
The motherboard is equipped with multiple fan connectors that support two USB 3.1 headers, among others. The stable overclocking feature of the motherboard is one of its highlights that reviewers and verified users often comment upon.
The auto-overclock feature reaches the maximum stable clocking speed and does not diminish its performance. You can check the price and availability of the ASROCK X470 Taichi motherboard on Amazon.
Pros
In-Built WiFi
A worthy investment for quality and features
Great Overclocking
12+4 voltage phase regulator
A plethora of storage options and connectors
Excellent Overclocking performance
Premium specifications
Two M.2 connectors with NVMe support + 8 SATA ports
Cons
No reinforced memory slots
Complex firmware
ASRock AMD X470 Chipset MINI (ITX Fatal1ty)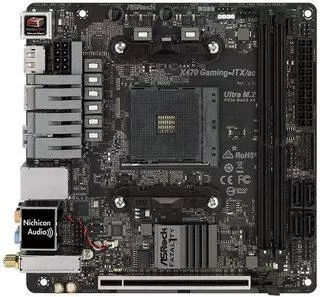 | | |
| --- | --- |
| Socket: | AM4 |
| Chipset: | AMD Promontory X470 |
| Form Factor: | ATX |
| Graphics Output: | 1 HDMI and 1 Displayport |
| Additional Specs: | 1 PCIe 3.0 x16, 10 USB Ports, 4 SATA3 and 1 Ultra M.2, Supports DDR4 3466+ (OC), Realtek ALC1220 Audio Codec |
The best X470 ITX Motherboard is the ASRock AMD X470 Chipset MINI. The best key feature is that its type, MINI, is small in size but high in performance. It has no drawback as compared to a big motherboard, but not a very known manufacturer but it is worth a try. It has Ultra M.2 that offers a speed of 32 GB/s which only best-in-class motherboards provide. It has both LAN and Wi-Fi connections which do not hold back in case of connectivity.
Type A and Type C USB with a generation of 3.1 Gen 2 are twice as fast as a single one. They can deliver up to 10 Gbps data transfer rate to minimize the time of the user. The motherboard is made up of Super Alloy which gives more strength and longer durability. PCB is made up of 2oz copper that gives low temperature and higher efficiency at the time of overclocking. To avoid electrical shorts due to humidity the material is of higher density Glass Fabric in PCB.
It has a Power supply of High-Density Power connectors that consist of 24 pins and 8 pins. Super Alloy of Motherboard has Nichicon 12K Black Caps which are made of high-quality conductive polymer capacitors which reduce the risk of electrical shorts and humidity.
CPU has 8 Power Phase designs to give power to the components in equal and ample amounts of the components to work efficiently. It has integrated AMD Radeon Vega Series Graphics in Ryzen series APU. It has 12 connectors consisting of Header Pins, Fan Pins (for both CPU and for motherboard too), USB Pins, etc. You can check the price and availability of ASRock AMD X470 Chipset MINI on Amazon.
Pros
Super Alloy material used
2x USB 3.1 Gen 2
Cons
Newer Generation Processor has limited solution
MSI Gaming Plus X470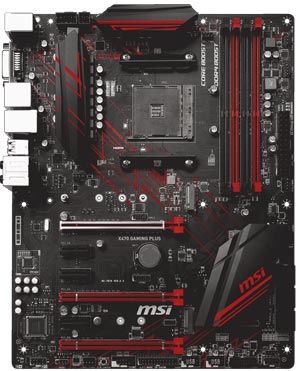 | | |
| --- | --- |
| Socket: | AM4 |
| Chipset: | AMD X470 |
| Form Factor: | ATX |
| Memory: | 64GB DDR4 Memory |
| Additional Specs: | RAID Support, No Wireless Networking, CrossFire Capable, 2 M.2 slots, Multiple USB ports |
The MSI Gaming Plus X470 motherboard stands apart from other conventional and gaming motherboards because of its versatility and presence of unique features. It is equipped with supreme USB BIOS update features as well as great handling of overclocking. You do never have to worry about heat because the high-dissipating quality of the motherboard is the best in this price range and efficient enough even when you are gaming for long, extensive hours.
This motherboard is Gaming Certified. It was tested for 24 hours in both on and offline gaming by e-gaming enthusiasts and excelled in its performance. BIOS can be easily navigated, and everything works well. Overall, this motherboard has all the features you will need to overclock your system successfully. It is easy to use and navigate BIOS. It's a tough board, and even though it is on the cheap side price-wise, you could not tell by its performance.
The core boost feature of the MSI Gaming Plus X470 motherboard presents you with a premium layout and optimized power design. This helps support more cores and provides better gaming and conventional performance.
You get synchronized customization of Mystic lights and a DDR4 boost in this motherboard. The audio quality is impressive and immersive with Nahimic that rewards your ears with an excellent experience when you are gaming. There are multiple in-game weapons that you get to enjoy that are available along with this motherboard, such as Game Boost, Gaming Hotkey, X-Boost, and more.
The motherboard has amazing OC potential, and you can enjoy seamless connectivity when it is housed inside your processor. Low latency and commendable overclocking avoidance performance make this motherboard one of the best options for gaming enthusiasts. You can check the price and availability of the MSI Gaming Plus X470 motherboard on Amazon.
Pros
Impressive Heatsink technology
Amazing Overclocking Performance
DDR4-3200 Memory Compatible
Cons
WiFi connectivity is not the fastest
Expensive
Gigabyte X470 AORUS Gaming 7 WiFi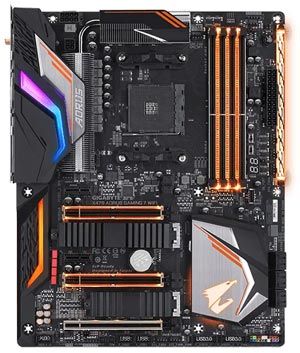 | | |
| --- | --- |
| Socket: | AM4 |
| Chipset: | AMD X470 |
| Form Factor: | ATX |
| PCIe x16: | 5 |
| Warranty: | 3 years |
| Voltage Regulator: | 10+ 2 phase |
| Audio: | Realtek ALC1220-VB codec |
| Additional Specs: | 2 M.2 slots |
Want a motherboard that has superb design and layout along with amazing features? A motherboard that is compatible with your gaming needs of top-tier performance and does not heat up ever so often? Well, you are searching for the Gigabyte X470 AORUS Gaming 7 WiFi motherboard, and we bring you the same.
The motherboard is featured on the list of various premium reviews. It can be judged with a closer review because of its steep price. While it is definitely not the most expensive X470 motherboard, we can conclude that it is right up there somewhere at the top. So let us look at the features and quality of performance that this motherboard delivers.
The performance and aesthetic of the motherboard does not miss, and it is equipped with a plethora of useful features that you can enjoy. At the same time, you are gaming extensively or spending long hours in front of the computer for content creation. An oversized heat sink is present inside the motherboard, and the 10+2 VRM, power phase delivery, is remarkable. This ensures that your computer configuration will receive the optimal cooling it requires, and the overclocking performance of the motherboard will never slow down.
Other highlights of the Gigabyte X470 AORUS Gaming 7 WiFi include pretty cool RGB LEDs. The RGB performance is one of the best out of the entire collection of best X470 motherboards. You also get a three-year warranty along with this motherboard if some problems arise during or after installation. Contact the manufacturer support at the earliest for guidance and further help.
There are two BIOS switching options and a POST display in this motherboard. You also get overclocking buttons and excellent audio codecs that give you enhanced and immersive experience while gaming.
The motherboard certainly has more ports than you will need, but the more, the merrier, right? The wireless connection of the motherboard also works in your favor. You can check the price and availability of the Gigabyte X470 AORUS Gaming 7 WiFi motherboard on Amazon.
Pros
Remarkable heatsinks present for M.2 slots
Overclocking support up to 3600 MHz
Additional support in OC mode
Cons
Complex BIOS
Unsatisfactory performance with its value
It can be expensive for some
MSI X470 Gaming Pro Carbon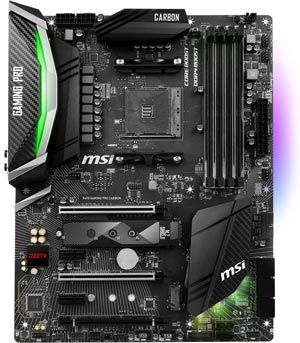 | | |
| --- | --- |
| Socket: | AM4 |
| Chipset: | AMD X470 |
| Form Factor: | ATX |
| Audio Support: | Realtek ALC1220 Codec |
| PCIe x16: | 5 |
| Additional Specs: | 2 M.2 slots |
If you are looking for a top-tier motherboard that is best suitable for your performance gaming needs as well as your conventional use without breaking the bank? You can opt for the MSI X470 Gaming Pro Carbon motherboard. MSI is already a well-known cult favorite manufacturer of motherboards among the gaming community, and this is one of the most recommended versions coming straight from experienced gaming enthusiasts.
Now let's get down to the details of the motherboard. The name of the motherboard stems from the carbon-fiber textures on its build. It has an I/O cover, and on the SouthBridge, you will see RGB lighting present. The design and layout of the motherboard make a solid statement in terms of boldness, and it has neat, attractive white lines along with its black PCB, which looks fascinating.
Coming to connectivity, there are 5 PCIe slots, and two of the PCIe 3.0 slots are equipped with steel armor. A highlighted feature that comes within this pierce. Steel armor is also present in every one of the four RAM slots in the motherboard. There are 3 RGB headers, sufficient enough in terms of RGB lighting.
The MSI X470 Gaming Pro Carbon motherboard has six fan headers. It has several ports attached for various uses, such as a USB Type-C port, PS/2 port, and more. You can check all of this information in the detailed user manual that comes with the motherboard. The audio processing capabilities of the motherboard are far better than its competitors under the same price range.
The power phase delivery of 8+2 may appear to be disappointing for some users. Still, after we checked the motherboard's performance, we were assured of the fine cooling capability of the VRM components present inside the computer. You can check the price and availability of the MSI X470 Gaming Pro Carbon motherboard on Amazon.
Pros
Reasonably priced
High-quality VRM components
DisplayPort and HDMI Graphics outputs
Cons
Bloatware after installation
8+2 phase power delivery
Conclusion
The above-compiled list of the best x470 motherboards you can buy in 2022 surely narrows down your choices. The product reviews also highlight what these motherboards are best for and what unique features do they offer to you. Of course, there are plenty of other x470 motherboards in the market, but we picked out the best of the bunch that appeals to almost everyone. Be it gamers, content creators, or conventional users, there is an x470 motherboard that is compatible with every one of them in the list of recommendations. Keeping in mind our quick shopping tips, you can determine which of these motherboards appeals the most to your requirement and proceed to add the same to your shopping cart.
Frequently Asked Questions
Is X470 a good motherboard?
Yes, x470 is a good motherboard because it offers loads of features and specifications that appeal to not only performance gamers and content creators that require extensive performance from the motherboard, but conventional users can expect the best out of this motherboard chipset too. In a nutshell, x470 motherboards are compatible with all new generation AMD processors, and they never disappoint. The above list of x470 motherboards is a top choice if you are looking to buy one for yourself or a gift to someone.
Is X470 better than B450?
The B450 chipset of the motherboard is a mid-range option if you are looking for a stable mobo that will last for years. In comparison, X470 motherboards are not only built with multiple components but are also equipped with features such as multiple fan headers, USB ports, SATA slots, etc. Judging based on all the plus points, specifications, and features that both x470 and B450 chipset motherboards provide, we have to conclude that X470 is indeed better than B450.
Is X570 worth it over X470?
If you want a motherboard chipset compatible with your AMD gaming processor and affordable, then X470 is worth it over X570. The best X570 motherboards that we have listed and reviewed above are not only compatible enough to meet your overclocking needs and give a top-tier performance, but they are also affordable. So if you want to stay within the budget and get premium flagship performance out of your motherboard, then the X470 chipset should be your ultimate choice.
Are Ryzen 3000 motherboards compatible with X470?
Yes, according to a recent report coming in from AMD, the x470 motherboard is indeed compatible with Ryzen 3000. Although the new 3rd generation x570 chipset motherboard has arrived in the market, the price and specification may not appeal to everyone with a limited budget and requirements. The x470 motherboards that are older may require a BIOS update to work. For this, AMD is offering full support in the process.