Intel is back with Alder Lake 12th gen CPUs that pack a severe punch in their respective price ranges. If you are in the market for a new gaming rig around the higher-end Intel Core i9 12900k chip and haven't decided which motherboard to pick, you've come to the right place.
This extensive guide will provide detailed information on all the best motherboards currently available for the i9 12900k to make selecting an appropriate one for your build a lot easier. We will classify them based on several factors, such as pricing, power capacities, maximum ram speeds, overclocking, RGB, aesthetics, etc. So, let's get into it!
Most important, when buying a motherboard, it should connect all the peripherals as the motherboard is the bridge between components. If building a custom PC, having a powerful motherboard is a must and has some key features such as overclocking ability, form factor, RAM, etc. So don't take tension. We have all covered.
We have researched some of the best motherboards to help you build a PC with different categories. So without further due, let's get into it.
Quick Shopping Tips:
Chipset
The Intel I9-12900K falls into the family line of LGA 1700 Chipsets. Such as B660, H610, and H670, and the top-of-line Z690
Power Consumption:
The power consumption of Core i9-12900k quickly reaches 240watts at stock. Going above 250 when overclocked, many motherboards fail to deliver that power, such as B660, H610, and H670. The Main Component is VRM as it supplies power to the CPU, and as you overclock, the VRM has to provide even more power.
B660s have around 12/14 VRMS. Meanwhile, Z690s have approximately 16 and go up to 24. Suitable for extreme overclocks.
Overclocking:
Overclocking helps to push your hardware to its maximum extent. Not all Motherboard chipsets allow overclocking.
Price:
The prices of Z690 Motherboards start from 200 USD+ depending on availability.
Our Recommendations
| Award | Design | Motherboards | Retailer |
| --- | --- | --- | --- |
| Extreme High-End-Performance (DDR5) | Best Pick | | Check Price |
| <br>Best High-Performance (DDR5)<br> | | | Check Price |
| Best Price-to-Performance (DDR5) | Staff Pick | | Check Price |
| Best Micro-ATX (DDR4) | Budget Pick | | Check Price |
| Budget Performance (DDR4) | | | Check Price |
Above, we have provided the lists of motherboards with the award that we have given them concerning the work quality and price they provide.
So let's hop into it.
ASUS ROG Maximus Z690 Apex
Best Pick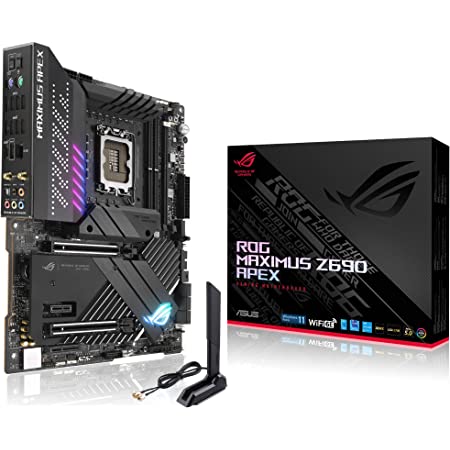 | | |
| --- | --- |
| Socket: | LGA |
| Chipset: | LGA 1700 |
| Form Factor: | ATX |
| PCIe x16: | 4 |
| USB Ports: | 10 |
The ASUS ROG Maximus Z690 Apex is an extremely high-end motherboard, going all out on features and capabilities. Aimed at those interested in extreme overclocks due to its 24+0 VRMs. And many more overclocking ASUS exclusive tools such as AI Overclocking, AI Cooling, and AI Networking. It has many debug features such as ReTry Button, Safe boot button, start button, etc.
Making it the easiest to work with interface in terms of OC and overall stability.
Limiting memory to 2 slots only makes it closer to the chipset, allows for greater OCs on the ram, and speeds up to 6600mhz without crashing.
This motherboard is a gift to overclockers. If you aren't interested in overclocking, it is a waste of money, as it costs double the amount of a regular motherboard.
For storage, this motherboard has Six SATA-III Connections and Five M.2 Connections, Two of which are PCI-E Gen 5, and the rest are Gen 4
Pros
24 VRM
Exceptional Audio Chipset
AI Overclocking
MSI MPG Z690 Carbon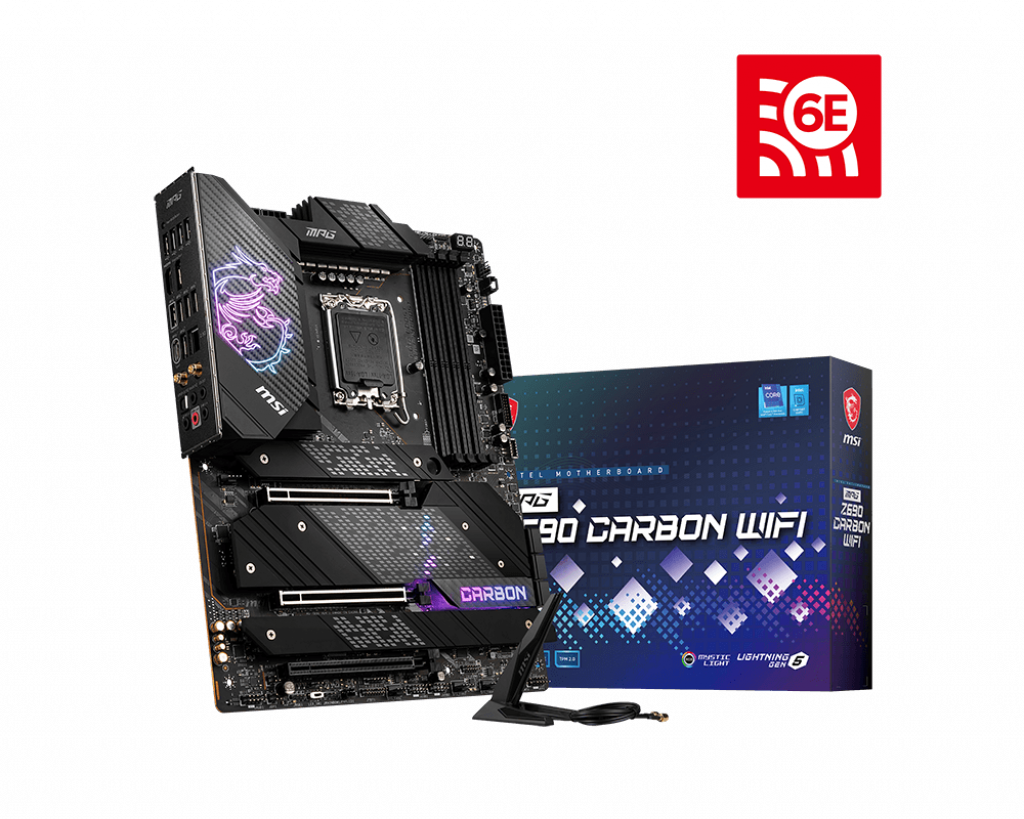 | | |
| --- | --- |
| Socket: | LGA |
| Chipset: | LGA 1700 |
| Form Factor: | ATX |
| PCIe x16: | 3 |
| USB Ports: | 10 |
The MSI MPG Z690 Carbon is the best high-end motherboard available.
It offers 2×8 pins for superior power delivery to the CPU. It has 18+1+1 VRMs making it capable of overclocking an I9-12900k effortlessly, even supporting Liquid Nitrogen, as MSI claims.
For storage, this motherboard provides Six SATA-III connections. And 5 NVMe, Four of them being PCI-E gen 4 and one being PCI-E gen 1
Ram capabilities are 128 gigs of dual channel ram running at 6666 MHz in a controlled environment by MSI, so that a 6300mhz mark would be better in a real-world scenario.
The board has two PCI-E's, running a single PCI-e at x16 or two PCI-e at x8. This board can support any dual GPU setups, like SLI, even though Nvidia disapproves of SLI.
Even this motherboard seems to be haunted by this generation's same trend, which is the lack of debugging tools, although it has a Debug Screen. The Reset and Start buttons are still nowhere to be found, Even though they used to be pretty standard in MSI's previous generation boards. You expect these basic features when you pay the amount that can get you a decent CPU.
Pros
Best for all types of users
WIFI, Bluetooth, and LAN provided
6666MHz Ram Speed
Gigabyte Z690 Aorus Pro
Staff Pick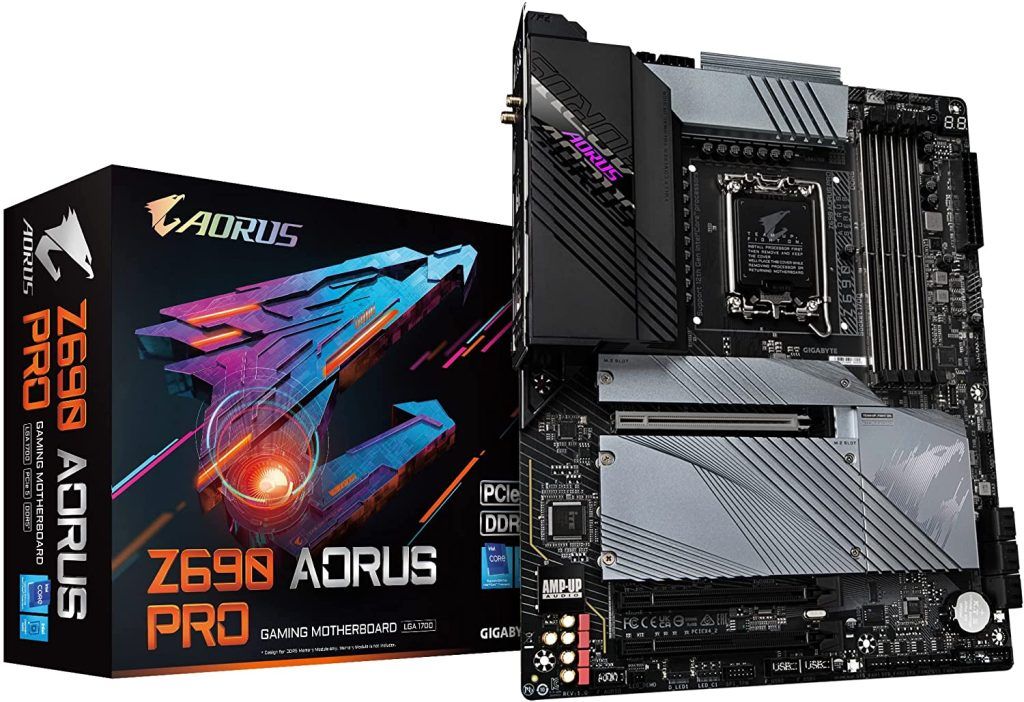 | | |
| --- | --- |
| Socket: | LGA |
| Chipset: | LGA 1700 |
| Form Factor: | ATX |
| PCIe x16: | 3 |
| USB Ports: | 20 |
The Gigabyte Z690 Aorus Pro is the best Price-to-Performance ratio motherboard currently available.
It features 16+1+2 VRM, suitable for mediocre overclocking.
The Aorus Pro has the latest DDR5 architecture and XMP 3.0 capacity. the new DDR5 Technology brings 50% more speeds and drastically increases system performance and stability due to unlocked native voltage. Supporting up to 128GB of dual channel memory running 6200mhz on XMP
Everything is covered by what gigabyte calls "Thermal Reactive Power," which guarantees un-throttled performance to ensure the best VRM, CPU, MOSFETs, etc.
It has a single NVMe connection and three M.2 slots while having Six SATA-III connections.
Although there is very little RGB on the motherboard, it has 4 RGB headers, allowing you to control many RGB components from the bios and gigabytes software.
It has two PCI-e slots, one of them running at x16. Meanwhile, the other is at x4. So SLI and any dual GPU setup are off the charts if you are still into that, even though Nvidia and AMD themselves have dropped the idea. The only benefit you can avail of from the 2nd slot is a capture card.
And finally, a debug LED screen, which is practically rare nowadays, ironically a reset and start button is still nowhere to be seen.
Pros
Sleek Design
20 USB Connections
WIFI and LAN provided
Cons
Only 3 PCIe express slots
ASUS Prime Z690M Plus D4
Budget Pick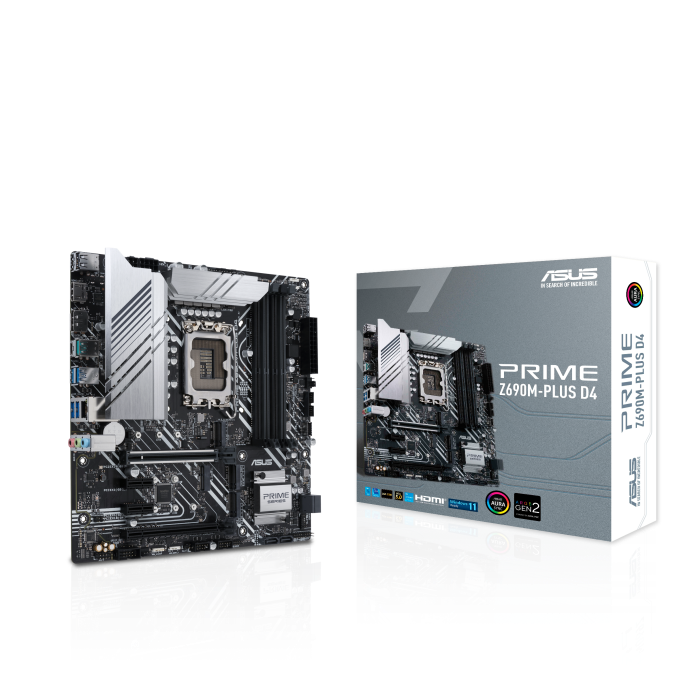 | | |
| --- | --- |
| Socket: | LGA |
| Chipset: | LGA 1700 |
| Form Factor: | Micro-ATX |
| PCIe x16: | 4 |
| USB Ports: | 15 |
The Asus Prime Z690M-PLUS D4 Is currently the best Micro-ATX Board available. As usual, rocking an LGA 1700 socket, it can fully support Intel's 12th generation family.
Supporting 128GB dual channel ram, running at 5333mhz overclocked speed.
Having 2 PCI-E x16 Slots and 2 PCI-E x1 Slots.
It is a bare-bone motherboard with no RGB on the motherboard, although it has four RGB headers.
It can support up to four SATA III connections and three PCI-E Gen 4 NVMe drives. It has an Extended Heatsink Design, and M.2 Shield Frozr built for high-performance systems.
This board has many similarities with MSI PRO Z690-A, only this one is slightly cheaper. And having fewer storage options, it suffers from the same drawbacks as the MSI Counterpart. Having no debug options and a small overclocking capacity. This is the perfect choice for casual gamers and office workers alike.
Pros
Micro-ATX
Ample Connections
Best LAN connection
MSI Pro Z690-A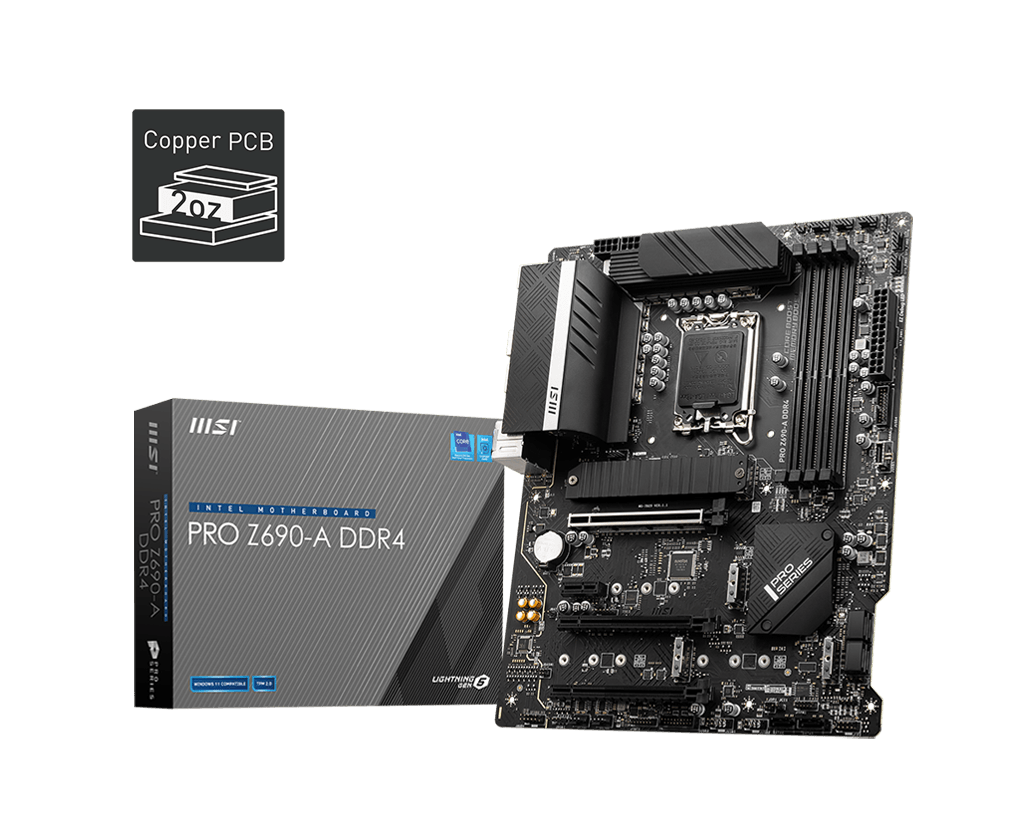 | | |
| --- | --- |
| Socket: | LGA |
| Chipset: | LGA 1700 |
| Form Factor: | ATX |
| PCIe x16: | 4 |
| USB Ports: | 8 |
the MSI Pro Z690-A Is the most value-for-money motherboard currently available.
Based on the LGA 1700 Chipset, it can run any CPU from intel's 12th generation family.
Supporting 128GB of ram in Dual Channel up to 5333mhz speed on XMP.
Having 3 PCI-E X16 Slots and 1 PCI-E X1 Slot.
It can support up to 6 SATA III connections and 4 PCI-E Gen 4 NVMe drives. It has an Extended Heatsink Design, and M.2 Shield Frozr built for high-performance systems.
It lacks all sorts of Debug options, such as debug screens and LEDs. etc
Overclocking capacity is very limited, and having zero to no debugging tools, overclocking is going to be very hard. Debugging will be very hard because figuring out the error will be lengthy.
This motherboard is best used in an office environment with no overclocking, and the CPU will run at stock speeds.
Learn more about Intel Core i9-12900K
Frequently Asked Questions
How important is a good motherboard?
Why do you need a good motherboard? Since the motherboard is the central circuit that interconnects all components and peripherals to a computer system, a good and proper motherboard assures and grips the CPU, audio capacitors, PCIe slots, RAM, and other components in the correct position.

What makes a motherboard better than another?
More expensive motherboards will therefore have Newer performance standards, more room for drives, and so on. Expensive motherboards usually mean better components. Adequate Quality capacitors, as cheap capacitors, are a common failure point on inexpensive motherboards.

Can a cheap motherboard affect performance?
If you're using a low to mid-tier CPU, then a cheap motherboard won't affect your PC's performance noticeably. However, suppose you're using a top-of-the-line CPU. In that case, chances are your low-end motherboard won't be able to provide enough power and will pose a bottleneck for your entire system.

Will a better motherboard increase FPS?
Motherboards do not directly influence your gaming performance at all. Your motherboard type will allow your graphics card and processor to perform better (or worse). It's similar to a Solid State Drive's impact on FPS.