Intel's new Alder Lake 12th gen CPUs are out, and casual gamers and enthusiasts are including these new chips in their builds. The Intel Core i9 12900k is this year's top-of-the-line chip requiring decent coolers since it's an unlocked chip that can be overclocked quite a bit.
Considering how intel doesn't include any coolers with the 12900k, you'll have to pick an excellent 3rd party one if you want to achieve maximum performance while maintaining minimum temperatures.
There are many types of coolers to choose from, ranging from AIOs to air coolers. If you are in the market for a cooler for your new 12900k CPU but can't decide which one to go for, then you've come to the right place as we'll be discussing the 9 Best CPU Coolers for the Intel 12900k.
We will be classifying them based on several different factors, such as pricing, fan noise, whether it's an AIO, Air Coolers, etc. So, let's get into it!
Quick Shopping Tips
CPU Socket:
A CPU Socket is a socket in the motherboard where a Processor rests. It uses a series of pins to connect the motherboard to the Processor.
There are different types of Sockets/Processors,
Intel uses LGA Socket, and AMD uses PGA Socket labeled as AM.
Land Grid Array:
LGA is notable for having pins on the socket rather than the Processor, which is far more durable than PGA.
Height:
A CPU Cooler is usually in a tower design shape. Before buying a CPU Cooler, the dimensions should be checked and compared to the height available in your casing. It should be written on the manual of the case. If the casing lists a maximum height of 150mm, and you accidentally buy a 160mm, it won't fit. You will have to either buy a new smaller cooler or remove the side panel.
The Noctua NH-D15, for example, is 165mm in height, surpassing many small form factor casing limits.
Thermal Design Power:
TDP measures the maximum amount of heat generated by a specific component.
It is one of the significant factors in deciding how efficient a CPU Cooler is. The higher the TDP, the faster it can cool down.
Higher TDP is always better. But a larger Cooler plays an impact as well.
Our Recommendations For Best CPU Coolers for Intel i9 12900k
| Award | Design | CPU Coolers | Retailer |
| --- | --- | --- | --- |
| Best High-End Air Cooler for Intel I9-12900K | Best Pick | | Check Price |
| Best Budget Air Cooler for Intel I9-12900K | Staff Pick | | Check Price |
| Best Silent Air Cooler for Intel I9-12900K | Budget Pick | | Check Price |
| Best Low Profile SSF Cooler for Intel I9-12900K | | | Check Price |
| Best RGB AIO CPU Cooler for Intel I9-12900K | | | Check Price |
| Best Entry-Level Cooler for Intel I9-12900K | | | Check Price |
| Best AIO Liquid Cooler for Intel I9-12900K | | | Check Price |
| Best 240mm AIO Cooler for Intel I9-12900K | | | Check Price |
| Best 280mm AIO Cooler for Intel I9-12900K | | | Check Price |
We have provided a list of CPU coolers which will be discussed in this article. These CPU coolers are the best cooling options that keep the motherboard cool even at peak times.
Noctua NH D15 Chromax
Best Pick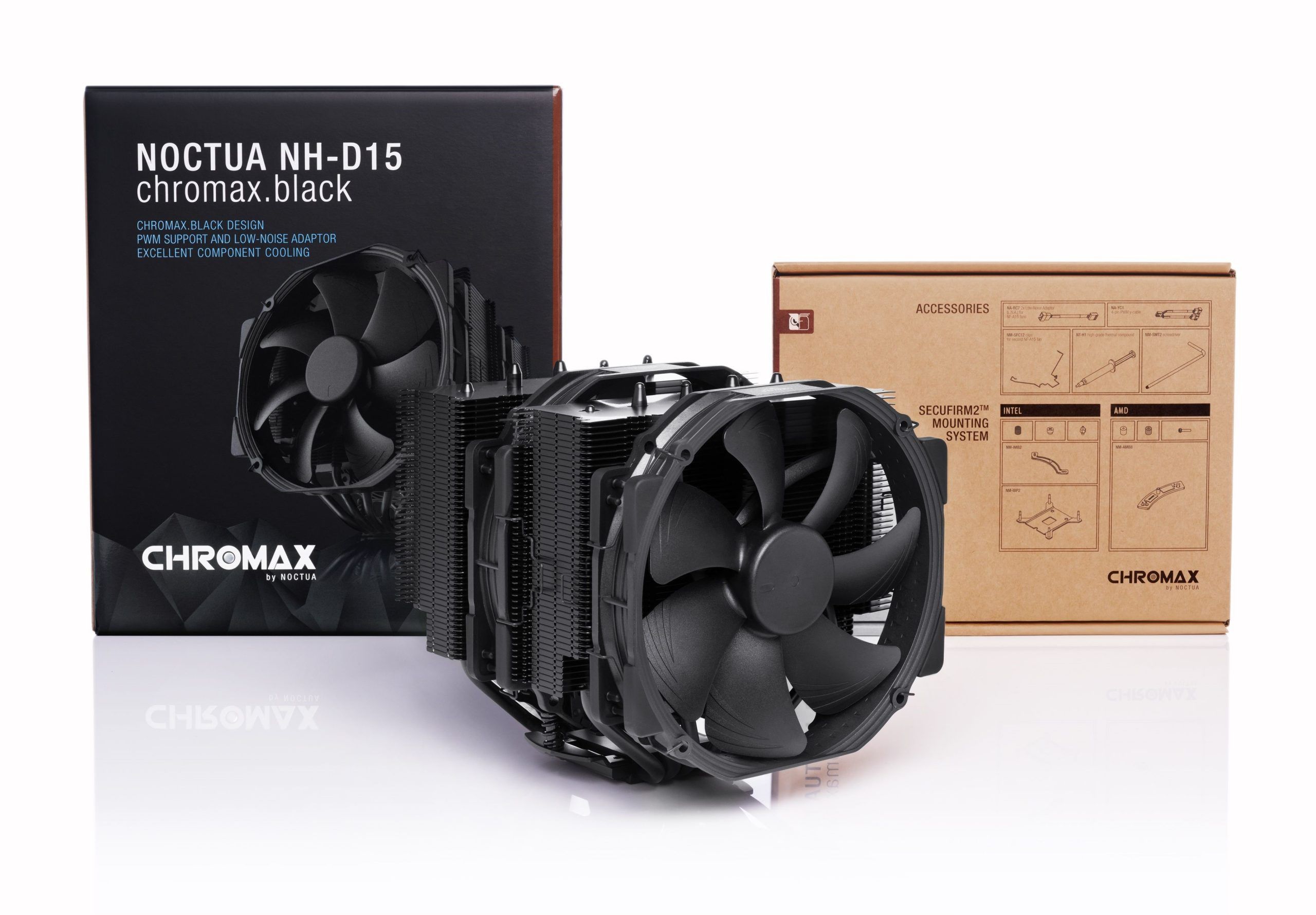 | | |
| --- | --- |
| Socket Support: | LGA 1700 / 1151 / 1200, AM4 |
| Fans: | 2 |
| Warranty (years): | 6 |
| Noise Levels (dBA): | 19.2 |
Noctua has a long-standing reputation for making the most efficient CPU coolers and fans for PC Enthusiasts. Their beefiest CPU Cooler Noctua NH D15 Chromax is no pushover when it comes to CPU Coolers, which even manages to beat AIOs in thermal testings.
Being at 165mm in height, it can handle 250 TDP. Its 6 Heatpipe dual-tower design gives it the optimum thermal efficiency needed, which is more than enough to cool down an I9 12900K properly.
While effortlessly moving air at 19.2 dB and lower, thanks to its Dual NF-A15 140mm fans, the best in class fans.
As well as including low fan noise adapters to muffle the noise further. and PWM that allows complete control over the fan speed from your motherboard bios or fan controller software. So that you can run the CPU cooler at max speed whenever needed and quiet as a whisper on Idle
The box even includes their high-end NT-H1 thermal paste to maximize the thermal capabilities further.
As the cooler is very bulky, Noctua provides their SecuFirm2 mounting system for ease and support.
Not to mention it looks very premium. The same can not be said for many other Coolers on this list. This is why Noctua's NH-D15 tops our list and is currently the Best High-End Cooler available on the market.
Pros
19.2 dBA noise levels
Warranty of 6 years
2 Fan support
Cons
Overpriced
No RGB support
No height adjustment
Deepcool AK400
Staff Pick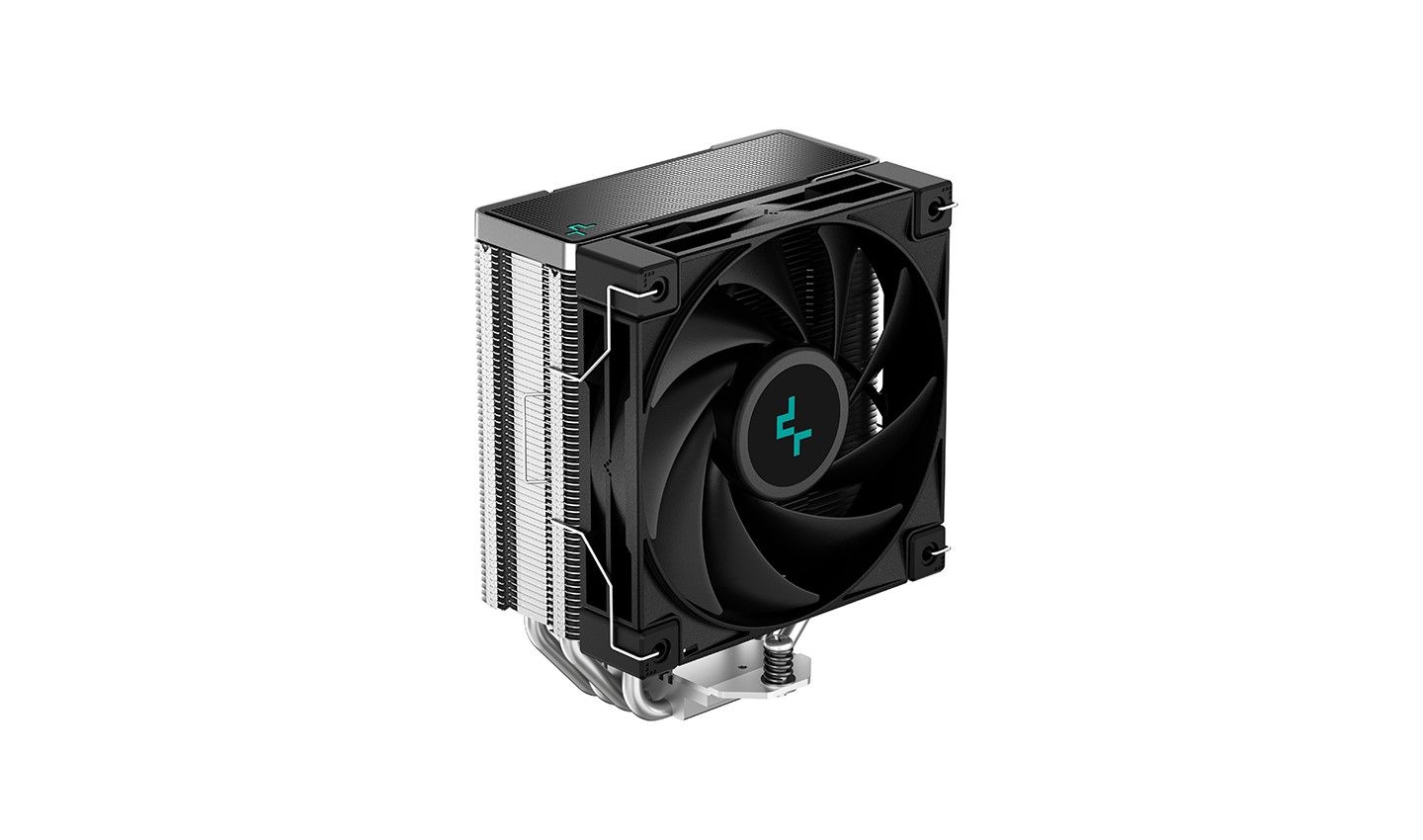 | | |
| --- | --- |
| Socket Support: | LGA 1700, 1200, 1115x, / AM4, 3(+) |
| Fans: | 1 |
| Warranty (years): | 1 |
| Noise Levels (dBA): | 29 |
DeepCool was founded with the mission to provide high-performance PC parts and Thermal solutions for enthusiasts at a low price.
Their cheapest offering, Deepcool AK400, is labeled as the best price-to-performance ratio cooler, with many qualities of a premium CPU Cooler under 35 dollars.
Four direct touch heat pipes rapidly transfer heat from the Processor to the fins with a unique matrix-style tower design. Being at 155mm, it can easily fit inside 160mm maximum height casings.
Deepcool has made new all-metal mounting brackets, which offer an effortless five steps process for securing the cooler.
A high-performance FDB fan maximizes airflow and static pressure at 1850 RPMs while being at 29 dB. and intelligently slows down for silent efficiency with the help of PWM connections.
The dimensions of the fans are 120×120×25 mm, allowing air to be pushed at the velocity of 66.47 CFM while having a static pressure of 2.04.
Pros
29 dBA noise level only
220 TDP
Cons
Comes with single fan
1 Year Warranty only
Be Quiet! Dark Rock Pro 4
Budget Pick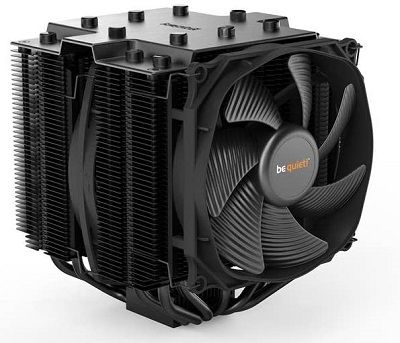 | | |
| --- | --- |
| Socket Support: | LGA 1700, 1151, 1200, AM4 |
| Fans: | 2 |
| Warranty (years): | 3 |
| Noise Levels (dBA): | 24.3 |
Be Quiet! Has mastered the art of making silent but exceptional CPU coolers. Their newest and bulkiest offering, Be Quiet! Dark Rock Pro 4 is a CPU cooler that has silenced every other cooler with its excellent performance, Offering the best cooling performance while being inaudible.
Termed "Noctua NH-D15 Killer" by JayzTwoCents.
Its seven pure 6mm copper heat pipes painted with a unique Black coating with ceramic particles enhance the heat transfer.
All this is possible due to Be Quiet!'s Silent Wing 3 Fans. They offer the best noise-to-airflow ratio balance, resulting in great thermals. Moving air in and out through the Airflow-optimized cooling fins allows for faster heat dissipation.
Adding another Silent Wings 3 PWM fan in the back can result in even more outstanding performance.
With the help of PWM Connections, the fans can achieve dead silent noise at idle and 24.3dB at max speed. Excellent for overclocked CPUs and workstations. Especially for those who like to keep their system inaudible
It's rated to perform at 250 TDP, Which is on par with the Noctua NH-D15 while being 20 dollars cheaper.
The shape of the fins allows for the front fan to be raised, resulting in taller rams being compatible with the cooler.
Due to the front fins and fan being raised, the height of this cooler is 163mm, which is over the maximum height for some cases.
Pros
250W TDP for air-based cooler
Aluminum top cover support
Seven high-performance copper heat pipes
Cons
Expensive
Limits RAM heights to 40mm
No low noise adapter
Noctua NH-L12S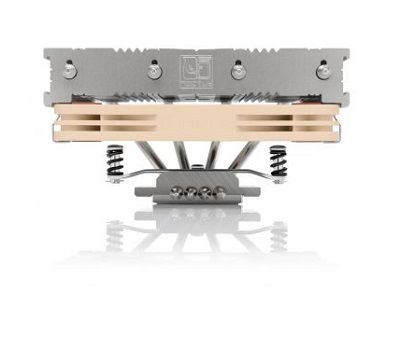 | | |
| --- | --- |
| Socket Support: | LGA 1700, 1151, 1200, AM4 |
| Fans: | 1 |
| Warranty (years): | 6 |
| Noise Levels (dBA): | 22.4 |
Noctua is back with another entry, this time being in the Super Small category. The successor to the award-winning NH-L12 is Noctua NH-L12S.
The NH-L12S is a premium-quality low-profile solution for the highest demands.
The NH-L12S is a highly compact, quiet, low-profile cooler that combines excellent compatibility, surprising efficiency, and remarkable flexibility designed for small form factor cases, Being only 70mm Tall.
Thanks to its In-house NF-A12X15 PWM, super slim 120mm fan. Being Highly versatile. Mounting the fan on the top makes it compatible with RAM modules up to 48mm in height, which is more than enough.
The box includes a pro-grade SecuFirm2™ multi-socket mounting system and Noctua's proven NT-H1 thermal compound. And a full 6-year manufacturer's warranty.
The Brown colored fans might be an eyesore to look at, but the performance that it delivers is enough to tolerate it.
We all hope Noctua would eventually release a black version, as they have done with all their other coolers, such as the NH-D15 Chromax.
Pros
Best built quality and material support
70mm clearance for RAM
Low noise adapter
Cons
Expensive
Limit TDP at low flow
No RGB support
Cooler Master MasterLiquid ML240 Illusion White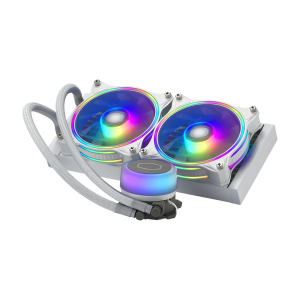 | | |
| --- | --- |
| Socket Support: | LGA 1700, 1151, 1150, 1155, 1200, AM4 |
| Fans: | 2 |
| Warranty (years): | 6 |
| Noise Levels (dBA): | 36 |
Cooler Master is the go-to brand when it comes to AIOs, for their supreme durability, looks, and performance. And the Cooler Master MasterLiquid ML240 in Illusion White checks all those boxes.
It redefines RGB visuals with all new design features. The color options are spectacularly customizable, with 60 Addressable RGB LEDs integrated into the new translucent pump.
Included Addressable Gen 2 RGB controller works with Cooler Master's MasterPlus+ software Customizing each individual LED in color, effect, brightness, and more – all from an intuitive, convenient interface.
Complemented with MasterFan MF120 are air-balanced fans offering high static pressure allowing air to reach other components, all while having low noise. Halo fans lighting features are more than even visual enthusiasts can handle.
The Illusion is elegant and extremely capable, featuring the 3rd generation Dual Chamber Pump for excellent cooling performance and Industrial Grade Seal to prevent leaks.
Paired with an Aluminum radiator that is 277 x 119.6 x 27.2 mm in size, which is enough to cool down a beast while maintaining its integrity and looks.
Pros
MasterPlus+ RGB Support
Easy to install
3rd Generation Dual Chamber Pump
Cons
Expensive
Lacking Fan Inside Pump
Cooler Master Hyper 212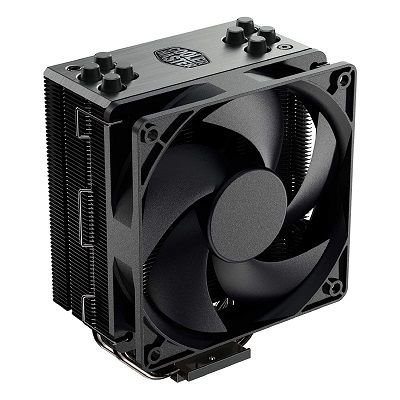 | | |
| --- | --- |
| Socket Support: | LGA 1700, 1150, 1151, 1200, AM4 |
| Fans: | 1 |
| Warranty (years): | 2 |
| Noise Levels (dBA): | 31 |
When it comes to well-known and affordable CPU Coolers, Cooler Master's Hyper 212 is Always there.
CM has released a newly refined version of Hyper 212, Cooler Master Hyper 212 Black Edition. A sleek finishing of Anodized gun-metal black with brushed aluminum, from bottom to top, gives a refined look. Only 158mm tall, it can fit inside 160mm casings easily.
Four Copper heat pipes with exclusive Direct Contact Technology provide effective and exceptional heat dissipation.
It is paired with a single Silencio FP120 featuring Silent Driver IC technology, which reduces noise and power output. The fan blade design, inspired by helicopters, packs more force into the space in front of the fan.
This can be doubled by adding another FP120 in the back, providing the CPU Cooler with a proper push and pull configuration, allowing unrestricted airflow with high static pressure. All while comfortably sitting at 26.0 dBA.
Pros
Budget-friendly
Four Copper Direct Contact Heat Pipes
ROG Ryujin II 360

| | |
| --- | --- |
| Socket Support: | LGA 1700, 1151, LGA 1200, AM4 |
| Fans: | 2 |
| Warranty (years): | 6 |
| Noise Levels (dBA): | 38 |
The ROG Ryujin II 360 is the Flagship AIO from ASUS. Delivering ultimate performance for gamers and enthusiasts looking for the absolute best.
It has a 3.5inch LCD display for real-time system stats and personalized animations via ASUS LIVEDASH software controls called Anime MatrixTM LED Display.
The Asetek 7th generation pump is the best in class, allowing for satisfactory cooling capabilities and preventing leaks because of industrial-grade seals.
It comes with a pre-applied thermal paste and a patented micro fan inside the pump to maximize cooling performance on and around VRM and M.2.
The Radiator is Paired with Noctuas 3 120mm 2000pwm Industrial grade Fans, Controllable via FanXpert, reducing unnecessary noise while keeping your system cool.
Allows for optimum air pressure and speed while at 29 dB.
It does not have any RGB on the fans, but the massive screen on the pump makes up for it.
Pros
3.5 Inch LCD Display
3 Noctua 120mm Fans.
A-grade thermal performance
Cons
No RGB support
LCD Display Controllable From Software
Arctic Liquid Freezer II 240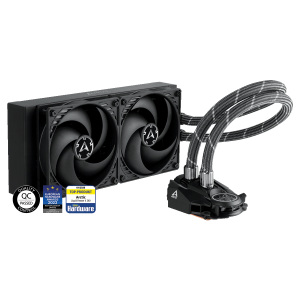 | | |
| --- | --- |
| Socket Support: | LGA 1700, 1151, LGA 1200, AM4 |
| Fans: | 2 |
| Warranty (years): | 6 |
| Noise Levels (dBA): | 22.5 |
Arctic Liquid Freezer II 240 is the Younger brother of Liquid Freezer II 280mm, Packing the same features, just being smaller in size. It is the best AIO in price to performance in the 240mm size category. It has also been awarded the "European Hardware Award 2020" for the best liquid cooler in the 240mm variant.
The Liquid Freezer II 240 manages to handle even the most powerful processors from Intel, performing effortlessly over 200W TDP of heat to be dissipated, setting new standards in terms of cooling capabilities in 240mm categories.
The pump of Freezer II has a pure copper cooling plate that allows heat to be quickly dissipated and an embedded fan that helps to cool down the surrounding VRMS and MOSFETS. It is also PWM controlled, significantly reducing the noise levels and humming while increasing efficiency and cooling capacity.
Paired with two 120mm PWM in-house P12 Fans, high static pressure allows more air to be pushed through the thick 38mm radiator with a high fin density.
Pros
Thick 38mm Radiator
PWM Controllable Pump
Arctic Liquid Freezer II 280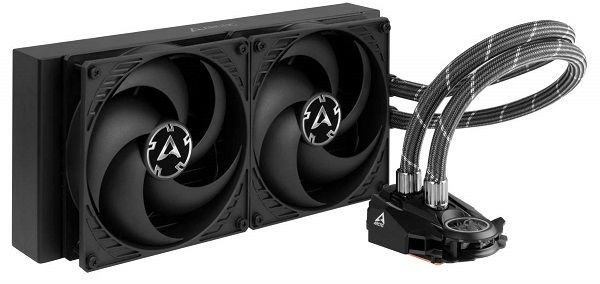 | | |
| --- | --- |
| Socket Support: | LGA 1700, 1151, LGA 1200, AM4 |
| Fans: | 2 |
| Warranty (years): | 6 |
| Noise Levels (dBA): | 25.7 |
Arctic Liquid Freezer II 280 is quite literally as cool as the Arctic. It is the best AIO in price to performance in the 280mm size category.
The Liquid Freezer II is known for its performance, price, and quiet operation. It exceeds all expectations and has set new benchmarks in the field of water cooling. Unlike many AIOs, Arctic Liquids Freezer is also PWM, leading to significantly lower noise levels, greatly reducing humming, and increased efficiency.
With the pure copper plate, heat is quickly transferred from the pump to the radiator, to be moved away immediately by the in-house P14 Fans.
The Liquid Freezer II's main strength is its fans, paired with 2 PWM P14 Fans, which are High static pressure fans for improved cooling and performance while being 140mm, allowing for more air to pass through a 38 mm thick radiator with a high fin density. Resulting in best in class performance and cooling.
Pros
VRM cooling fan support
Best-in-class price-to-performance ratio
PWM Controllable Pump
Cons
No RGB support
No low noise adapter
No joints in tubes
Learn more about Intel Core i9-12900K
Frequently Asked Questions
Is Intel i9 12900K good?
The Intel Core i9-12900K is the best processor I've tested in a relatively long time. It outmatches AMD's top-performing desktop processors by a significant margin, and its price is competitive.
Is Intel I9 12900K good for gaming?
When using a high-end cooler, the 12900K CPU's support for overclocking can be excellent for performance with the latest graphics-intense games. The 8 Performance cores have a 3.20 GHz base frequency and support a 5.10 GHz max turbo frequency.
What does K mean in Intel processors?
The "K" chips are usually the fastest, with higher clock speeds than the standard chips without a letter in Intel's mainstream chips. It also means the chip is "unlocked," where its clock speeds can be tweaked — or "overclock" — by a user to squeeze out a little extra performance than what you get out of the box.
Is an unlocked CPU worth it?
A locked or unlocked CPU is unlikely to make a noticeable difference for most productivity tasks. While it's true that a faster CPU is better, a lot of productivity workloads don't need to utilize very much of your CPU and are instead more stressful on storage and memory.